FAA AND EASA APPROVED
AeroWorx has dual release FAA and EASA authorization as an unlimited class I, II and III accessory repair station. With this certification, AeroWorx mechanics can safely make special repairs without having to seek FAA or EASA approval, ensuring quick turnaround.
AS9110 and ISO9001:2015 Compliant
AeroWorx complies with all AS9110 and ISO9001:2015 requirements. By meeting these requirements, AeroWorx continues to improve quality and turnaround for its customers.
DOWNLOAD CERTIFICATIONS
With certifications from the FAA, EASA and other relevant aviation authorities, AeroWorx can provide reliable service and quick turnaround for all types of aircraft.

AeroWorx has an ISO 9001:2015 AND AS 9110C Certification in accordance with AS9104/1 which covers the Quality Management System for repair, overhaul, and modification of aircraft components and assemblies.
DOWNLOAD PDF

AeroWorx is an FAA approved Air Agency and an FAA approved Repair Station
DOWNLOAD PDF

Confirmation and certification of the continued validity of AeroWorx EASA Part-145 approval following a positive recommendation from the FAA
DOWNLOAD PDF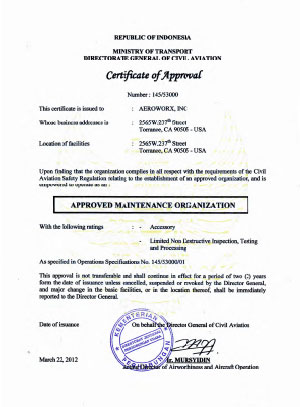 Ministry of Transportation Directorate General of Civil Aviation Certificate of Approval
DOWNLOAD PDF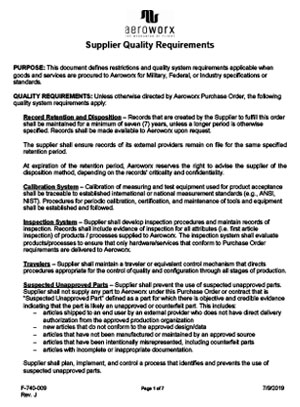 Supplier quality requirements. This document defines restrictions and quality system requirements applicable when goods and services are procured to AeroWorx for Military, Federal, or Industry specifications or standards
DOWNLOAD PDF
Additional terms and conditions that apply to any and all of Aeroworx, Inc.'s sales to, work or services for, or other transactions with any customers.
DOWNLOAD PDF

Anti-Drug and Alcohol Misuse Prevention Program to Comply with 14 CFR Part 120 and 49 CFR Part 40
DOWNLOAD PDF